Proud Paws 31.5/11 Cat Food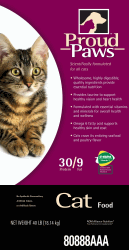 Playful Paws Cat Food provides the nutrients needed to meet nutritional requirements for all stages of a cat's life, including kittens. The meat-based formula is highly palatable, ensuring cats consume needed nutrients.
Adult Self-Feeding: Cats may be fed by filling a bowl daily. Since many cats prefer to nibble food, this may be an ideal, trouble-free method to keep your cat content and satisfied. Offer only the amount of food needed to maintain desired body condition.
Adult Cats: Provide ⅓ oz of cat food per lb of body weight. The average cat (10 lb) will consume a total of one standard size cup of Playful Paws daily. This may be offered as ½ cup in the morning and ½ cup in the afternoon.
Reproduction: Feed cat to maintain good body condition.  Food intake may double or even quadruple during lactation.
Kittens: Provide 2.5 oz of cat food per pound of body weight to kittens. Start feeding Playful Paws Cat Food at three to four weeks of age. To encourage consumption, the food may be moistened with milk or water in a ratio of six parts food to one part liquid. Feed only as much as the kitten will consume in 15 minutes. Feed kittens two to three times daily.
Feeding Instructions for Adult Cat Maintenance
| Cat Size | Daily Amount* |
| --- | --- |
| 6-10 lbs. | ½ – 1 cup |
| 11-15 lbs. | 1 – 1 ½ cups |
| 15+ lbs. | 1 ½ cups plus ½ cup for each additional 4lb of body weight |
*Amounts are based on standard 8-ounce dry measuring cup.
The amount to feed your pet will vary depending on breed, size, activity level, life stage, and environment.  Weigh your pet to determine actual weight.  The manufacturer recommends the daily amount of food be divided between two or more meals offered at similar times each day.  Always provide your pets with plenty of clean, fresh water.  Keep all food and water bowls clean.  If switching from another diet to Proud Paws, gradually make the transition over a period of one week.
Proud Paws and ADM Alliance Nutrition are all trademarks of ADM Alliance Nutrition, Inc.
All rights for these pictures and logos, as well as the feed names are property of ADM Alliance Nutrition, Inc.