Show Pig Feeds
Farmers Cooperative offers a full line of Show Animal Feeds from ADM Animal Nutrition. Every year ADM Show Feeds dominate the winners circle. National Champions, State Champions, Regional Champions, County Champions and more… Are you ready for a winning turnaround?
We have what you need to feed and fit your Champions!
Whether this is your first year showing, or your last year in the ring – Farmers Coop has what you need to maintain the winning edge.
Exhibitors and Breeders alike feed ADM Alliance Nutrition's ShowTec® and Fast Forward® Show Products to produce Champions at local, state and national shows more successfully and consistently than anyone else.
It's also why a growing number of recreational exhibitors choose ADM Alliance Nutrition's Catalyst™ and Farmers Cooperative's Show 'N' Flake. After all, whether you're going for the Grand or just competing for fun, you always want to be at your best. To be the best, feed the best.
That's why ADM is the market leader in producing quality products, which help your animals reach their maximum genetic potential. From starters and growers to our exclusive top-dress supplements, we give you the feeding products and programs to be the best.
Other feed suppliers may cost a little less, but you'll be getting a lot less! ADM Alliance Nutrition delivers guaranteed quality in every bag. So, feed the best to be at your best. With our winning performance products you can enjoy the winning results!
Catalyst
Start 'Em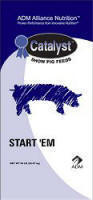 Start'em is a complete feed designed for feeding to Show Pigs weighing 50 to 150 lb for rapid, lean growth. It provides 20% crude protein, 4% fat, and 1.2% lysine.
Build 'Em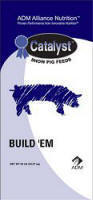 Build'em is a complete feed designed for feeding to Show Pigs weighing 150 lb to show weight. It provides 18% crude protein, 3% fat, and 1% lysine.
Features/Benefits
Vitamins, minerals and yeasts – Enhances skin and hair coat appearance as well as contributes to the health of Show Pigs
Combination of high-quality protein sources – Meets the unique nutritional needs of the Show Pig
Fish Protein – Increases palatability and provides a highly digestible source of protein
Metal amino acid complexes – Improve lean gain and reduce vitamin degradation
Artificial flavoring, natural and artificial sweeteners – Increases palatability, especially during hot weather
Pelleted – Decreases feed wastage and improves feed efficiency
Start'em is medicated with Chlortetracycline – For the reduction of the incidence of cervical lymphadenitis (jowl abscesses) caused by Group E. Streptococci susceptible to Chlortetracycline in swine
Build'em is medicated with Tylosin – For increased weight gain and improved feed efficiency
ShowTec
To Be The Best, Feed The Best…
Prestarters
ShowTec Starters
ShowTec Growers
ShowTec Developers
ShowTec Holding Ration
ShowTec Paylean® * Products
ShowTec Top-Dress Products
FastFuel
Fast Fuel gives Exhibition Livestock the "Finishing Touch" for a Championship finish.
MoorMan's® ShowTec®  Fast Fuel™ No. 11850
Fast Fuel gives Exhibition Livestock the "Finishing Touch" for a Championship finish. Fast Fuel is a unique top-dress supplement for Exhibition Swine, Sheep, Cattle, Goats, and Horses. It provides nutrients believed to be beneficial to performance of exhibition livestock and horses. Components of Fast Fuel encourage a healthy appetite and yield a smooth, well-defined body condition along with glossy hair coat. Fast Fuel can be used to accelerate condition, growth, and finish of exhibition livestock and horses to achieve full genetic potential.
Features/Benefits:
Wheat germ – Believed to provide beneficial advantages due to availability of octacosanol. These advantages may include better blood oxygen carrying capacity, leading to more oxygenation of body tissues, better endurance, more stamina, and better muscle condition and strength.

Stabilized rice bran– The benefits of stabilized rice bran abound:
Rice oil – Provides a readily available, highly digestible source of energy conducive to natural functioning of the gastrointestinal tract; energy, in the form of oil, has been shown to have a positive impact on body condition and hair coat expression.
Gamma oryzanol – Potent antioxidant also thought to have positive impact on development of lean muscle mass.
Omega 3 fatty acids – Provides essential fatty acids; needed for proper functioning of the immune system.

Natural-source vitamin E – More potent antioxidant activity compared to synthetic vitamin E; antioxidant properties counteract harmful free radicals produced within the body; helps maintain cell membrane and tissue integrity; needed for proper functioning of the immune system.

Prosponse® yeast supplement – Provides essential micronutrients to enhance feed palatability and maximize digestion.

Methionine – Beneficial effect on hair coat.

Cobalt glucoheptonate – Source of cobalt, which is essential in the formation of red blood cells; may enhance fiber digestion, making energy utilization by the animal more efficient.

Vitamin B12– Essential in the formation of red blood cells.

Thiamine—Shown to enhance appetite.

No additives, no preservatives – No withdrawal

Mini-pellet form– Easy and convenient to feed; reduces feed waste. Fast Fuel is available in 25 lb bags.
Feeding Rates:
Fast Fuel is a top-dress supplement designed to be fed during key feeding periods at the following rates:
Show Pigs – 4-6 oz/hd/day
Show Lambs and Show Goats – 4 oz/hd/day
Show Calves – 8 oz/hd/day
Show or Performance Horses– 8-12 oz/hd/day
NOTE: Fast Fuel is not a complete feed. It is designed to enhance a nutritionally balanced diet formulated to meet each species' requirements. Fast Fuel is not designed to be used as the sole source of supplemental energy, protein, vitamins, and minerals; and should be fed according to the recommended feeding rates.
Firewater
What is Firewater?

Firewater is an effective tool for bringing out the optimum appearance of your show animal not only during exhibition but during times of sickness and stress also. It's a unique blend of electrolytes, amino acids and dextrose in a one liter bottle conveniently measured and dry packaged to ensure freshness.
Firewater is easy to use, just fill the bottle with water and shake well. Firewater then turns red letting you know it's ready to be fed. You have three options, 1) top dress on feed ration, 2) add to animal's water, 3) drench animal with Firewater.
Firewater is beneficial to swine, cattle, sheep and goats at three very different, but extremely important times of your show animal's life. Feed it during and after sickness, during time of stress associated with handling, hauling or clipping or prior to and during exhibition of your animal.
Suggested Uses
Prior to, during and after exhibition
During and after sickness
Features/Benefits
Contains dextrose as a source of energy
Contains amino acids to help meet an animal's needs during times of stress
Contains electrolytes which help replace lost nutrients needed during re-hydration
How Does it Work?
Dextrose increases an animal's energy and stabilizes and animal's metabolism, promoting an animal's overall well being and health.
Amino acids help activate stomach enzymes aiding digestion and refurbishing the body's cell which in turn enhances the anima's appetite.
Electrolytes chemically animate water ingested by the animal there by more effectively penetrating muscle cells speeding up muscle absorption during there hydration process and aides in attaining a fresher, 'bloomier' appearance.
Firewater facilitates rapid re-hydration without adding the risk of scouring normally associated with most re-hydration used.